CLOUD 9 WALKERS
"I am a seriously afflicted self-confessed hopeless horse addict to the degree that my entire life has been completely ruled by horses, from the people who have influenced my early life to the eventual career path I took. I live on a 150-acre farm in southeast Texas which requires so much work to maintain that it pretty much rules my world. I start at dawn, whether it's mowing the grass that horses will be grazing, buying feed, hauling hay, cleaning stalls, etc., and you can find me frequently riding long into the moonlight. I am blessed to have had the experience of fighting cancer, because I am more fully aware than most people of the riches of life, which drives me to work and play as hard as I do, and I am in my third year of victory.

While working for a law firm, I trained horses and showed for ten years before the magical lure of America's trails consumed me. I won in many states and co-trained the Tennessee Walking Horse National Supreme Versatility Champion "Bess' Free' Spirit, but nowadays, the mountains, lakes and pine trees call me.

I ride and train pleasure horses for a living at least eight hours a day, most days, rain or shine, and then, on my days off, I ride some more! I have experienced guilt over my desire to live and breathe horses, since none of my family share this passion with me, but at this stage of my life, with my kids grown, I have decided to surrender to it.

I can't imagine a life without the soft breath of a horse, their gentle eye, their sweet pasture smell, the satisfying clop or thud of their hooves, the innocence and cute spirit of a new foal. I am Laura Kidder, and I am a horseaholic . . . Lord help me!"

The Addiction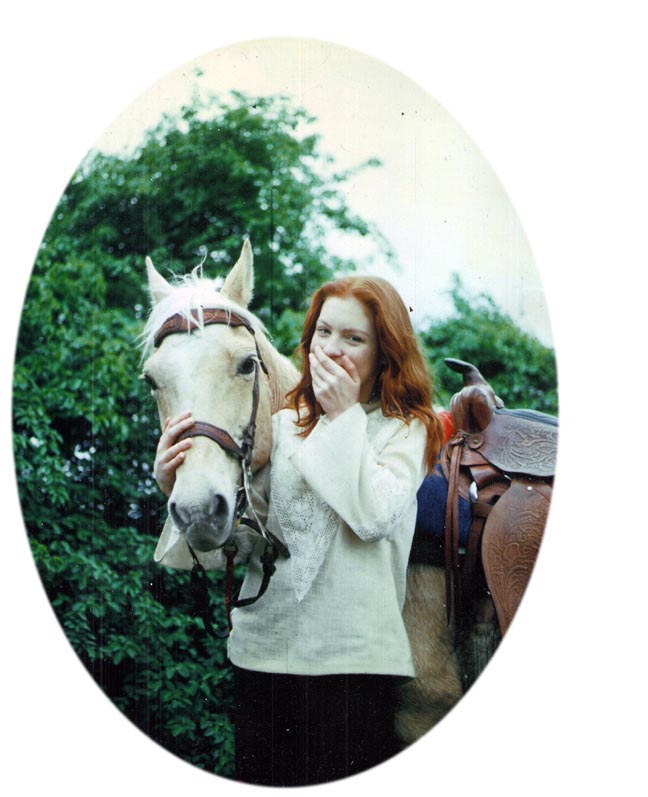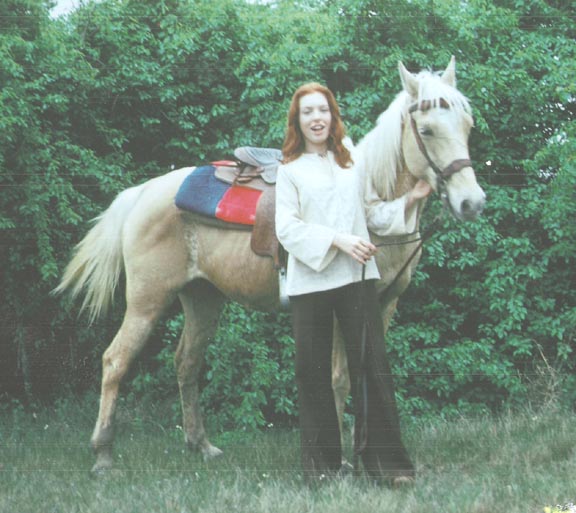 No wild parties, chasing boys, no smoking, alcohol or drugs for me. This was my childhood best friend, confidante, therapy and sanity!
And no regrets!
Here I am (in the pictures ABOVE), 15 years old with my 2nd horse, "Chevis", a palomino grade mare (not gaited), which I had just brought home the day before. (I am hiding my smile before I got my braces!) Of course I couldn't take the time to change clothes, and had gone straight to see her right after school let out. The 'style' then was the big oriental-type shirts, bell bottoms and believe it or not, I actually was riding in big wooden clog shoes. Remember clogs? Not exactly a safety statement!
Since I was 3 years old and can remember anything in my life, I have been head over heels in love with horses. I loved their eyes, their soft noses, the noises they made, and especially they way they smelled! I had the whole Breyer model collection, all the Walter Farley books, Chincoteague Island Pony, horse encyclopedias, anything horsey I could grab. My grandfather bought ponies and donkeys for us to ride but we only got to enjoy that on occasional weekends. I craved my own horse to groom, feed, ride, take care of and to love. My parents divorced when I was 9 years old and with 2 younger brothers, Mom couldn't afford to keep a horse, especially since we lived in the city and would have to board it.
When I was 11 years old, I thought I was simply going to die if I didn't get a horse. I knew Mom couldn't afford it, so I begged my father for a horse for Christmas. I was making straight A's in school, consistently babysat for spending money (which I saved toward an equine friend), and took care of my brothers after school while my mother worked. (I needed a horse, for nothing less than sanity!) My father told me no, he would not buy me a horse because in a couple of years, I would forget about them and be boy crazy. (THAT never happened!) Finally, my mother (who shared my love for horses) saved enough money to buy me my first horse –- a huge, raw-boned palomino 16H gelding (not gaited) appropriately named "Mountain", which was supposed to be 7 years old. She paid $200 for him and, of course, he turned out to be about 18 years old, but he was beautiful to me. I rode him through all the neighborhoods bareback because I didn't have a saddle. I was quite a sight, as I had to carry a 5-gallon bucket around with me to be able to get back on him. I landed a full-time babysitting job at the ripe old age of 11 for a graveyard shift-working single mother, who would bring her child to me at 9 every night and pick him up the next morning at 6. This income paid for Mountain's board, feed, shoeing and vet care, and I walked about a mile every morning before school and after school to feed him. I even rode him in the Christmas parades bareback, and it was a 3-mile ride in the dark to get him there.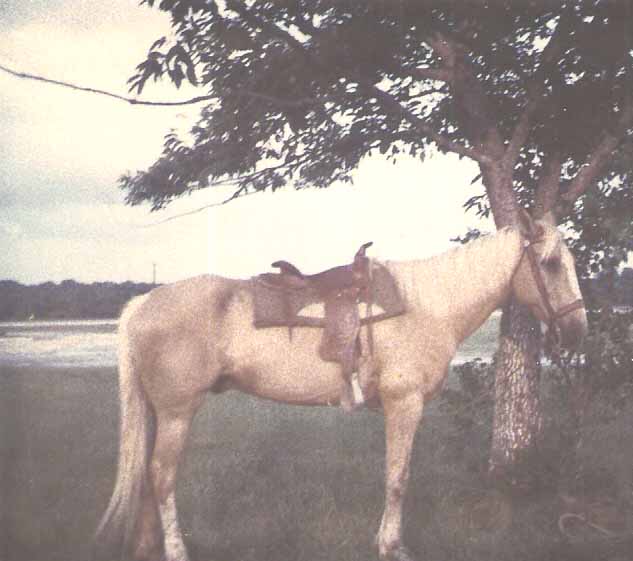 LEFT: My very first horse, a 16H grade palomino gelding "Mountain", the most handsome, beautiful horse in the world to me!
Mountain was my best friend and I couldn't wait to get out of school everyday to go see him. When other girls were having slumber parties and going to movies, I was babysitting constantly, to earn money to spend more time with my horse. I was not interested in boys, drugs or partying – only in the tall golden guy with the big, soft nose!
A couple of years later, a lady came to me who desperately wanted to trade Mountain to me for her shorter, younger palomino mare, which was a pretty little thing. I wanted to run barrels and poles and play, and I was afraid to do that with Mountain, who was getting on up in age, so I made the trade. I bought Martha Josey's barrel racing book and began to train "Chevis" to run the patterns. I was never able to compete because we didn't have a trailer to haul anywhere, but I had lots of fun just running in the pasture. I set up jumps and obstacles to experiment with and by the time I was 16, I was helping some of the other people at this facility to train their horses. At that age, I also got my driver's license, and I used Mom's car (with the huge trunk area) to haul loads and loads of Johnson grass to my horse. I felt so sorry for her having to eat all that dry hay that I would hand pick what felt like a half acre every day that Mom would let me use her car. Eventually, someone wanted to buy Chevis and I wound up purchasing an 18-month-old quarter horse filly, mostly because she was beautiful and I wanted a new challenge. She was not very difficult to start under saddle when she turned two years old, and through the years, I trained her to do everything a horse was supposed to do. I kept her for about 8 years, when I finally gave in to 'Walking Horse Fever', and sold her to be able to buy a Walking Horse mare to breed to "Bess' Free Spirit", the gorgeous future National Supreme Versatility Champion, which was the beginning of years of enjoyment and pure pleasure of riding associated with this gentle breed.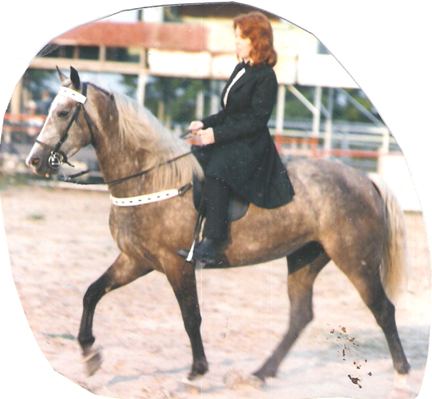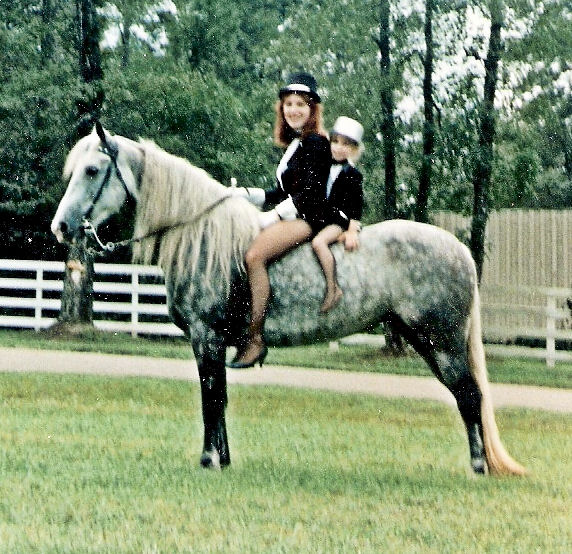 "Cloud 9 Silvermine", a sweetheart mare which I raised from the time she was an 18-month-old steely blue roan until she turned a beautiful dappled grey with long flowing silvery mane and tail. I trained her to pull a buggy, sidepass, canter, do trail obstacles, jump fences, just about everything you could teach a horse! We were so bonded that I could pretty much just THINK and she would respond.
LEFT: Working out for our pleasure classes; RIGHT: Waiting to go in the ring for our "tap dancing" costume class.
I showed both walking and racking for about ten years with much success, and was thrilled to have been blessed to own some really good, natural winning horses with wonderful personalities and tremendous hearts. My favorite thing to do was to trail ride my show horse during the week (after work, of course) to keep his mind fresh, then take him in the ring on a Saturday night and have him supple and obedient from all the bonding we did the week before.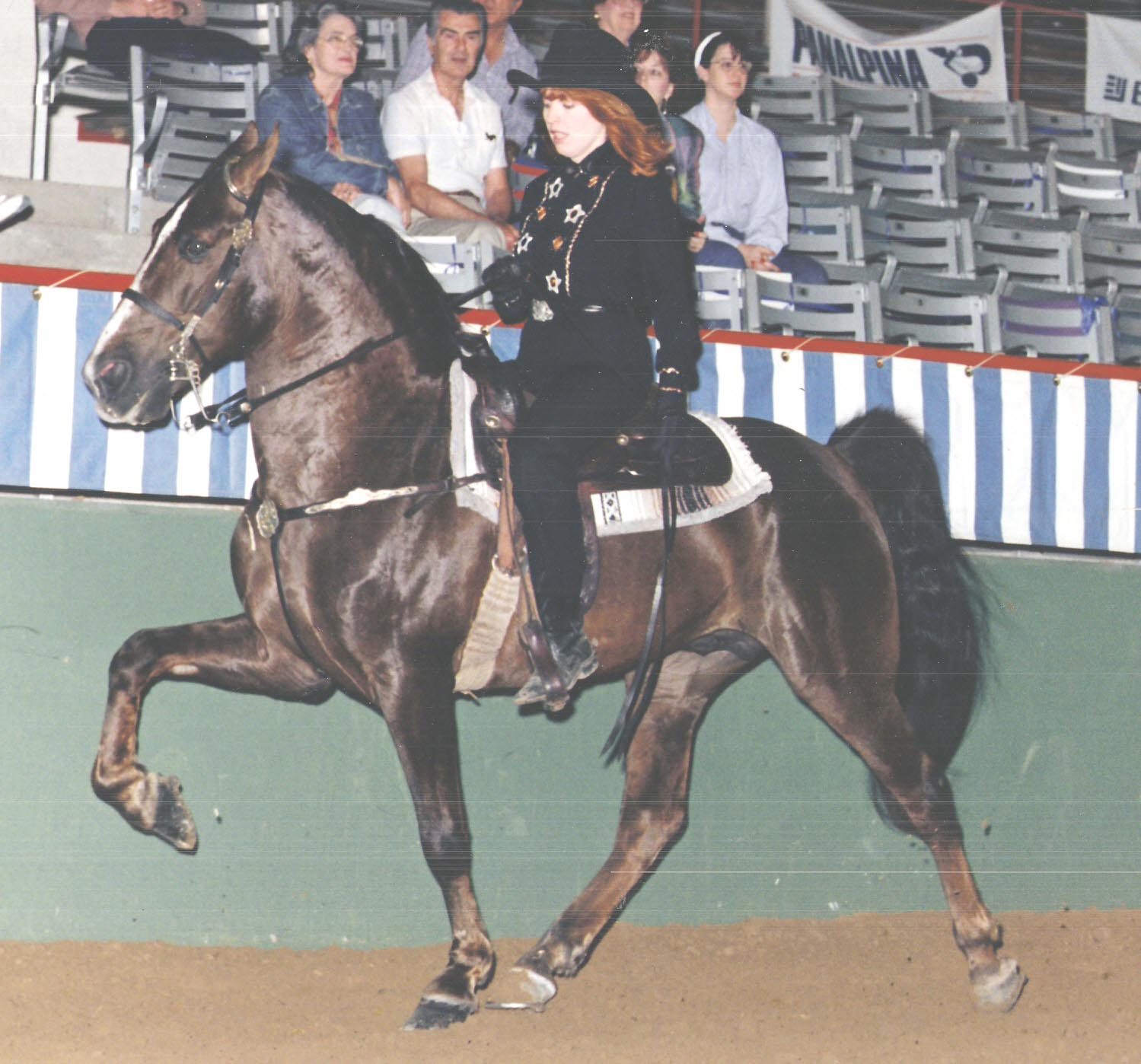 One of my favorite horses was "Bum's Humdinger", the 1987 World Champion Model horse (and he won 3rd in the Plantation Championship). He was already 13 years old when I got him, and all the pro-trainers told me that his type of horse couldnot be converted to western pleasure. In this picture, we were "pouring on the coal" for the camera, but I did teach him to drop his head, nod along, and effortlessly pick up his relaxed, carousel canter in for the western classes, and we wound up gaining the respect of some of the old-time trainers as Bum and I bonded. I taught him ride western with one hand, neck rein, sidepass, back, pivot, do a forehand turn, complete the obstacle courses and help me babysit!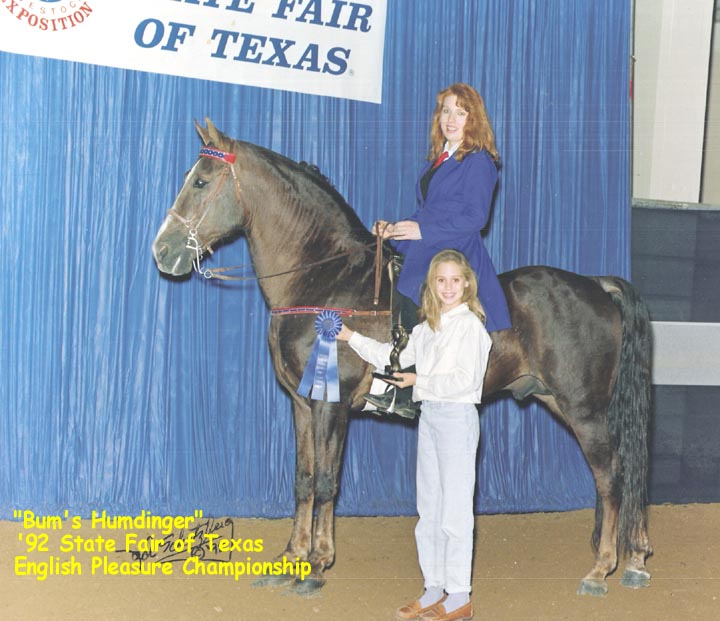 At the shows while waiting for our classes, I would ride him with my daughter in the back and my son in front of me, which would keep both kids out of trouble and quiet. He was such a gentle-natured stallion that he was perfect for the job. I would take him in the ring, he would put his head up in my lap, pick his feet up high, step way up under himself and walk his heart out. We would both be hot, sweaty and exhilarated after the class (he won a lot!), and I always gave him his favorite reward afterwards, no matter how close the classes were. We came out of the show ring, walked straight over to the warm-up ring, took off his saddle, bridle, put on the halter and a long lead rope, and he would lie down in the sand and roll – pure ecstasy to the big, chestnut stallion. Then I would rinse him off and let him drip dry before the next class he was due for. This stallion was so easy to handle that we took him on weekend camping trailrides (between shows) where we tied the horses to the trailer all night and slept in tents, and even with mares on the grounds, he behaved perfectly. In fact, we were at one trailride and had a mare with us, which we had been trying to get in foal. We didn't want to miss her cycle so we bred him that morning before the day's activities, threw a saddle on him and took off for a 15-mile ride.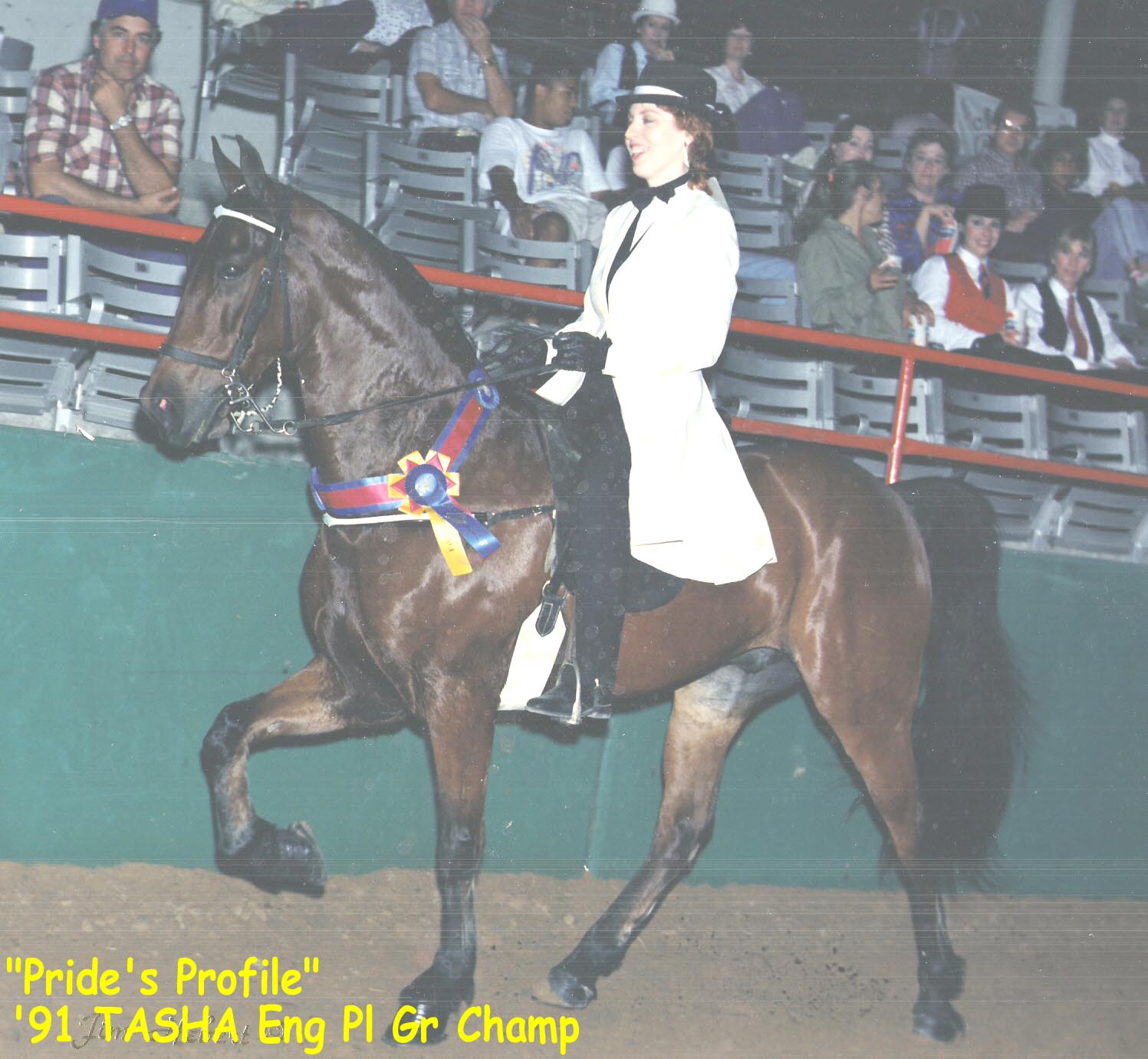 Another of my favorite show horses was a beautiful bay gelding named "Pride's Profile", with a heart as big as Texas. He was very classy with lots of presence, typical Pride of Midnight beauty, and a cute personality. He was already 9 years old when I bought him, and I paid a LOT of money for him, over the telephone. He lived a state away from me, but I had already seen him from a distance in the show ring and loved him. When I picked him up, all four feet were wrapped, and they told me that he had a foot condition that needed daily treatment. I was so in love that I didn't care, and I purchased him anyway. The lay term for his foot condition was called "greasy heel" and apparently, he had picked it up from one of the many shows he had been to. Profile had spent pretty much his entire life in a stall, and I never could stand to see that, so when I got him home, I unwrapped his feet and almost passed out! They looked swollen and almost hairless, and so many wrinkles that it was difficult to clean his ankles. The owners had given me a jar of specially prepared ointment for him, and told me that I had to treat him twice daily with it, and then keep it wrapped 24 hours a day. Since I had young kids and a full-time job at a lawfirm in Houston, I knew I was going to have to find a better way to take care of this horse. I turned him out in the pasture, and he ran around for about 5 minutes, ate a little grass, and then came and stood at the barn gate, begging to be let in. So I turned a companion out with him, thinking he was lonely. I never did get that sweetheart gelding to feel comfortable out the pasture, after nine years of being stalled, but I did bring him to my front yard when I would wash his feet, and while I was waiting for them to dry so I could put on the ointment, I would let him graze on a lead rope. Eventually, I would turn him loose and he would continue to graze, dragging the lead rope. As time went by, he became more comfortable staying out of the barn longer, and I would turn him loose with no restrains, not even a halter. He would actually spend 4 or 5 hours at a time in the front yard, like a yard dog, mowing the lawn for me. Visitors always thought they needed to let me know that I had a horse loose, but I'd just smile and tell them to meet "Profile". I also decided to leave those dang wraps off his feet, because they kept his feet damp and awful, and I thought maybe air would do him better than wraps. This method worked a virtual miracle -- all the swelling left, you could barely see any wrinkles, and since I continued to put his ointment on him, his feet eventually healed almost to normal. I had to carry a note with me from a vet to show the DQP's at any shows we went to, and he carried me to many blue ribbons over the years. At one of the shows about a year later, I ran into the vet who had prescribed the daily wrapping of Profile's feet, and he was astounded at the healthy results of letting them 'breathe' instead of wrapping them.
BELOW RIGHT: Beautiful 15-yr-old Angie Hatcher showing Profile to his
1992 Pin Oak Juvenile English Pleasure Grand Championship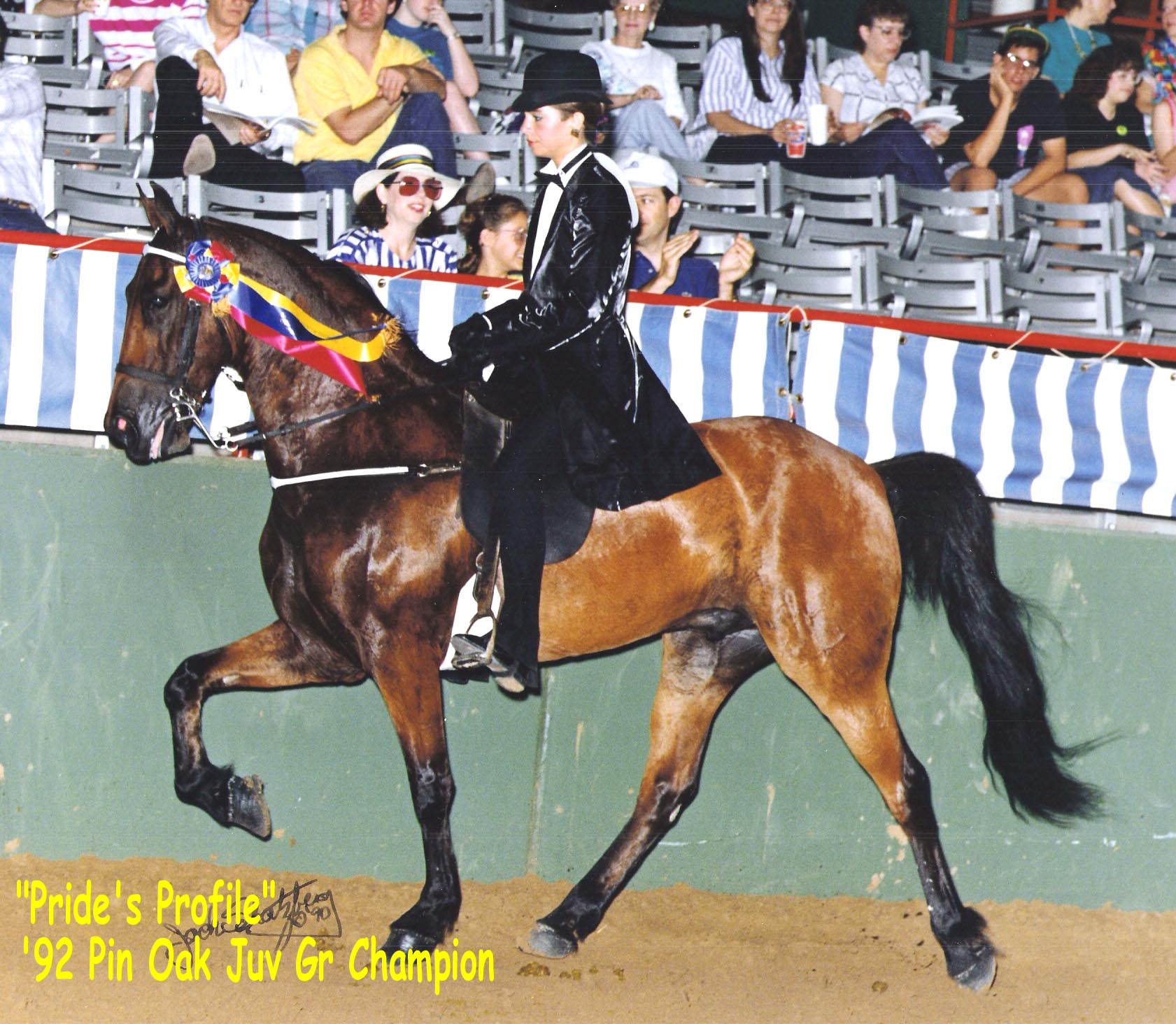 Profile was a high-class horse, and he knew it. He insisted on first class treatment, (what's the male equivalent of a "diva?"). One evening while feeding, I was going through the barn filling up the water buckets without checking them, since I had just cleaned them all out that morning. All the other horses were munching their grain, but he was standing at his water bucket, bright-eyed and ears up, watching me. I started to leave the barn, and he nickered at me, then dipped his nose toward his water bucket. I scolded him and told him that I had just filled it up, and started to leave again. He nickered at me again, so I walked back to his stall, looked into his bucket and saw that there were 3 or 4 dead flies floating in it. Surely, this wasn't keeping him from drinking, but I scooped them out and then moved out of the way. Profile then took 2 or 3 deep drinks of his now 'clean' water, turned his back on me and begain to munch his grain like all the other horses were doing. What a persnickety fellow, but regular antics like these sure endeared him to me. I showed him for quite awhile, and then wound up selling him to a teenaged girl who fell in love with him.
(Click on picture to LEFT to see short video of fun in the water.)
After ten years of showing, I lost interest and gravitated back toward my true love – pleasure riding through the country. I have been fortunate to ride in beautiful national forests, private hunting leases, creeks, rivers and the Gulf of Mexico. When we ride in the ocean, we take the horses all the way out to their withers, and they get to swim. Swimming a horse feels like riding Pegasus himself – it's almost a floating, flying sensation.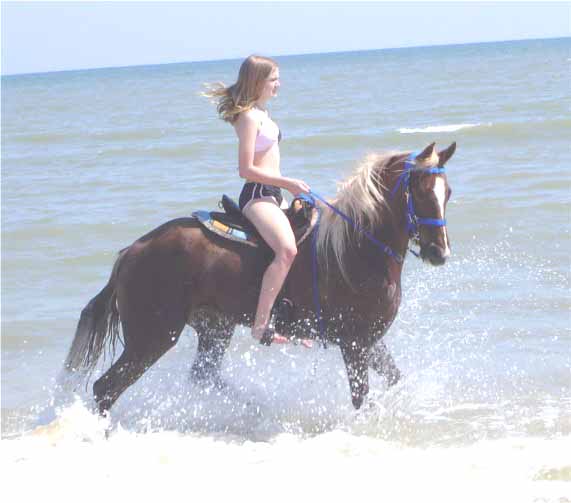 Any horse winding up here at Cloud 9 Walkers is going to get lots and lots of wet saddle blankets, because we are surrounded by people who love to ride. We have some really nice broodmares and we offer the foals for sale, but if they aren't sold before they turn two years old, they will be started under saddle and sold as riding horses. You can bet that even if they're 2 or 3 years old, they will have seen a lot more of the world than most their age.
People who call me wanting to buy horses are always looking for something pretty well trained, sensible and safe. A lot of people are looking for a trustworthy best friend, and most of the calls come from women (because there are so many female horse lovers). Their husbands don't understand what the fascination is, and it is hard to explain, but these big, kind, hairy animals we love to spend money on are such incredible therapy! (This came in handy while working ten years for a law firm of 18 attorneys in downtown Houston.) I know personally that anytime I am upset or feel my blood pressure rising, I can get on a horse and take a 30-minute or an hour-long ride, and when I get back, I love everybody again! Even when I cannot ride, just going to the barn and grooming, feeding, petting is calming therapy. I love my Harley motorcycle, but it doesn't breathe softly down my neck or give me that soft-eyed, pleading look when I have a carrot in my hand. And what a reward that grateful crunching sound is to the soul! Make no mistake – horses are expensive. Not so much their initial cost as the maintenance, but they're cheaper than a strait jacket, right?
---
CLOUD 9 WALKERS
P. O. Box 878
Hardin, Texas 77561
936-298-1984

Email me!