CLOUD 9 WALKERS
"Roscoe"
Doing it all BAREFOOT!
10-yr-old 15H Stout, Stocky Handsome Flashy Buckskin
Single-Footing Saddle Horse Gelding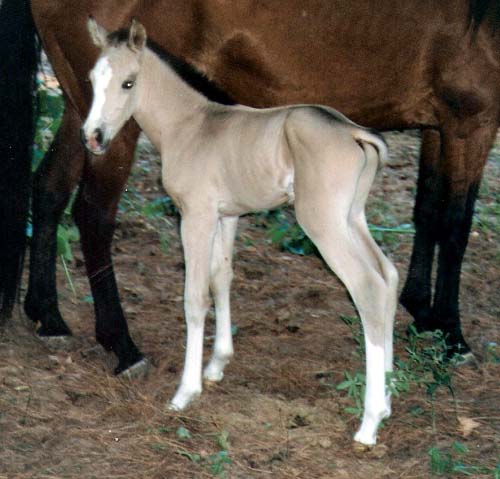 Roscoe, one day old!
If we didn't have his 'baby book' (see bottom of this page), we'd suspect that he's part Labrador and part Teddy Bear, because he's so sweet, gentle, affectionate and cute. Sometimes I imagine that I see him wag his tail!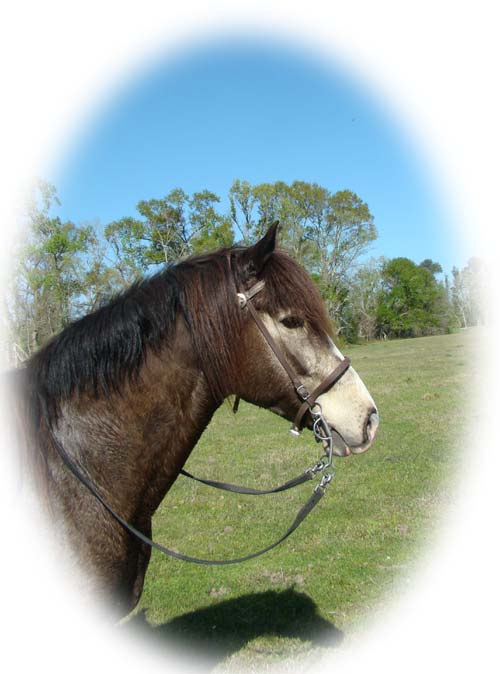 Roscoe pulled his mane out on an indoor hay ring, but you can see how beautiful it will be when it grows back. He's so cute with his bushy, thick forelock which hangs down past his eyes.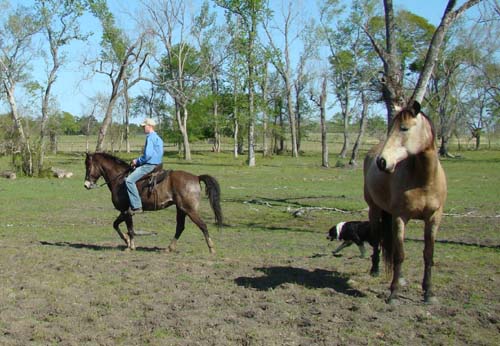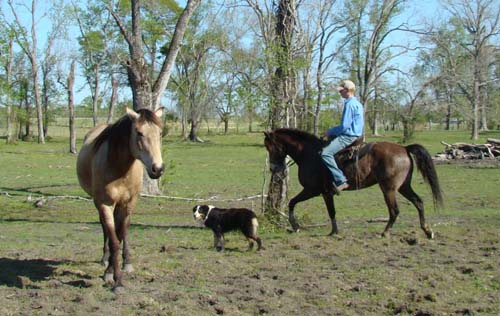 Bud rides Roscoe in the pasture past Bunny (buckskin mare) with Sadie (dog) following on 3/29/10.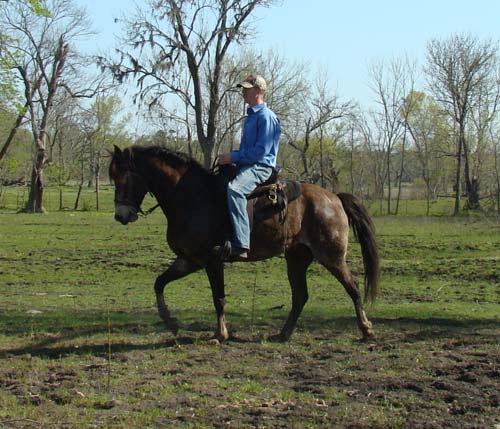 Hard to see his stockings because he just waded through a muddy creek, but you can sure see that beautiful naturally arched neck and headset! You can see the dapples on his hindquarters starting to show through his winter coat, which he is quickly shedding.
Click on embedded arrow ABOVE to see Roscoe working out on 3/29/10.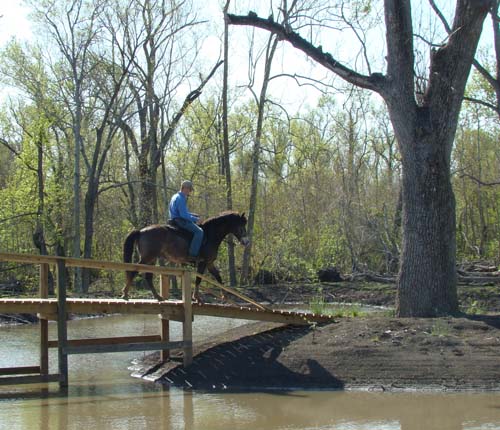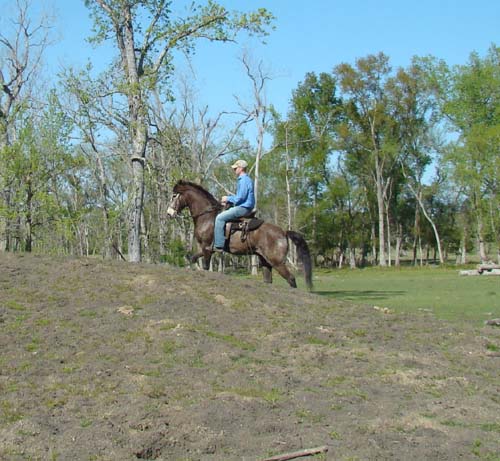 Bud rides Roscoe across the bridge and up the hill.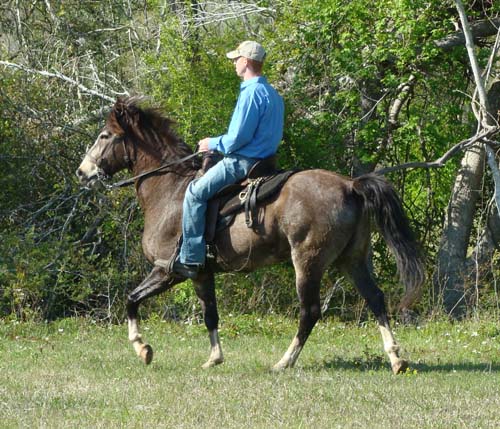 Roscoe in his fast gait.
Click on embedded arrow ABOVE to see Roscoe's first time under saddle in over a year, which was at our camping trip in East Texas during Spring Break.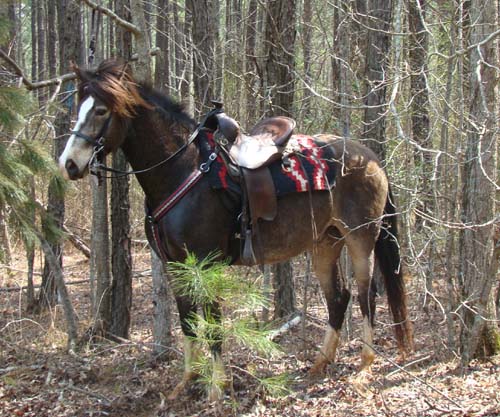 A HORSE OF A DIFFERENT COLOR
"Roscoe" -- Handsome, lit-up stocky 10-yr-old gentle dappled buckskin single-footing gelding with thick mane/tail and long thick forelock, four white stockings topped off by four black stockings. He has a blazed face, wide chest and big rump like a Quarter Horse, and his coloring is like nothing you have ever seen -- golden, bronze, dapples all set off by his black-ringed chrome. He's barefoot and absolutely so smooth that his feet barely whisper as they move across the ground.
This is as close to BOMBPROOF as you get (a term that you will rarely find me using) . . . excellent family horse that just makes you feel SAFE. He doesn't care if the other horses on the trail get faster than he does. Roscoe is registered with the Single-Footing Association and in addition to his soft, smooth gait that is almost unbelieveable, he performs a slow, athletic rocking canter.
Roscoe has been bred, born and raised in Texas and lived with the same family all of his life. Horses like him do not come available on the market very often, but his owner (an elderly lady) passed away and her family has decided to find him a new home.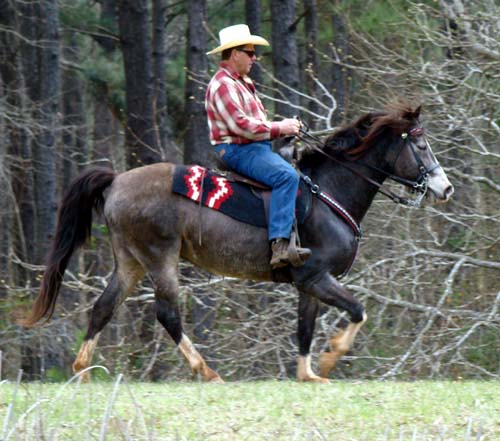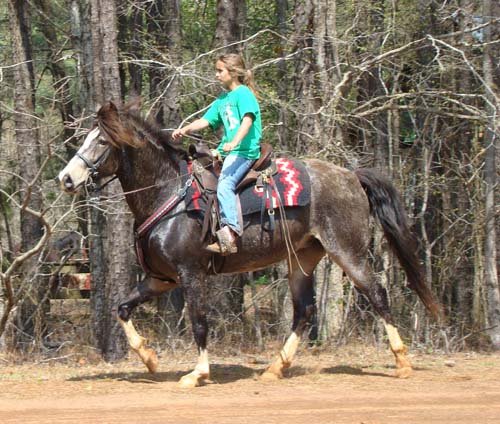 ROSCOE'S FAMILY TREE:
Rowdy's sire was a direct son of EZD Falcon Rowdy, the famed speed racking stallion studied by Texas A&M University. This buckskin stallion was out of a Tennessee Walking Horse mare.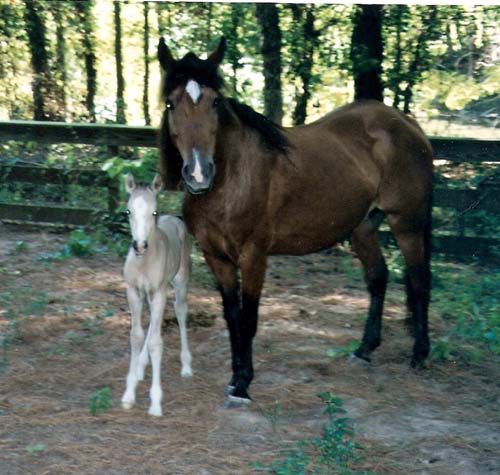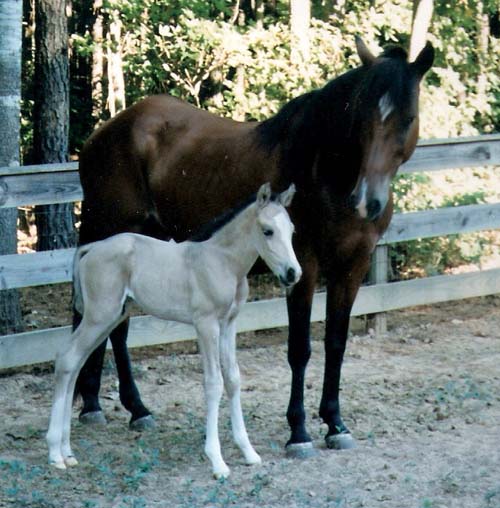 And this is Roscoe's beautiful dam, which was a quality registered Paso Fino mare with excellent bloodlines and a calm, easygoing disposition.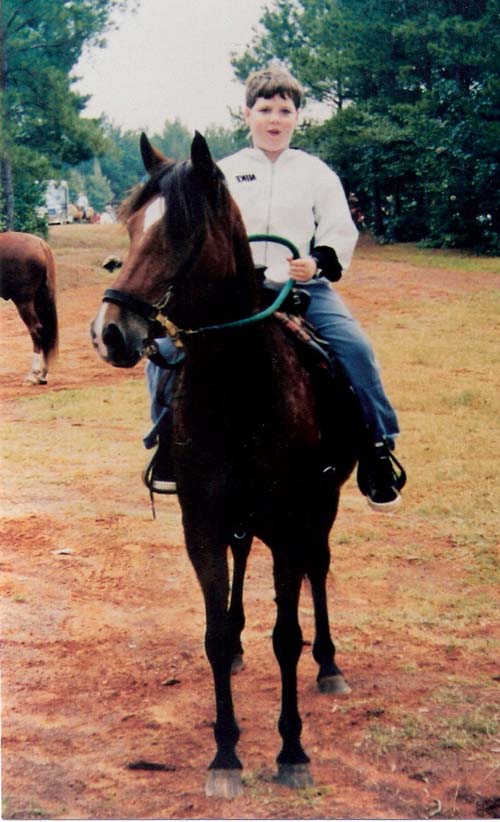 Roscoe's dam was so gentle that her young owner only rode her with a noseband and never used a bit on her.


Cloud 9 Walkers
P. O. Box 878
Hardin, Texas 77561-0878
(55 minutes east of Houston)
281-726-4545
(Entire contents of this website copyrighted by Cloud 9 Walkers)

Email me!