CLOUD 9 WALKERS
"L J"
Classy 15H Stocky Black Tennessee Walking Horse Gelding
Click on the arrow ABOVE to check out Becky's big smile aboard LJ on 2/21/09.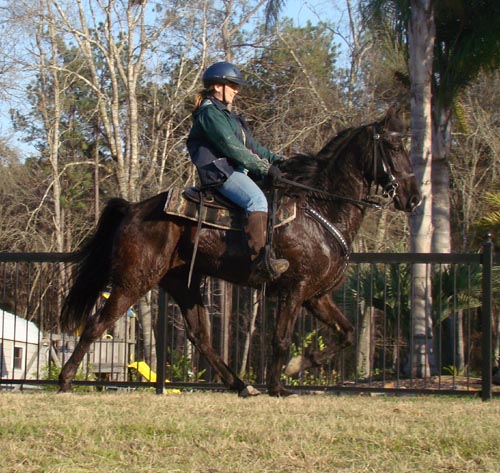 You'd think with this big striding huge back end that LJ has, he wouldn't be smooth, but he is lite shod and absolutely smooth as silk!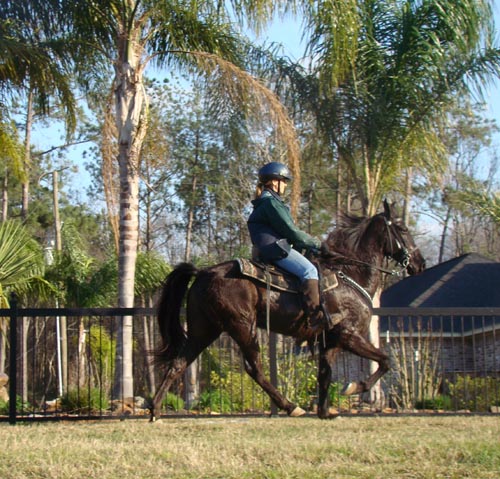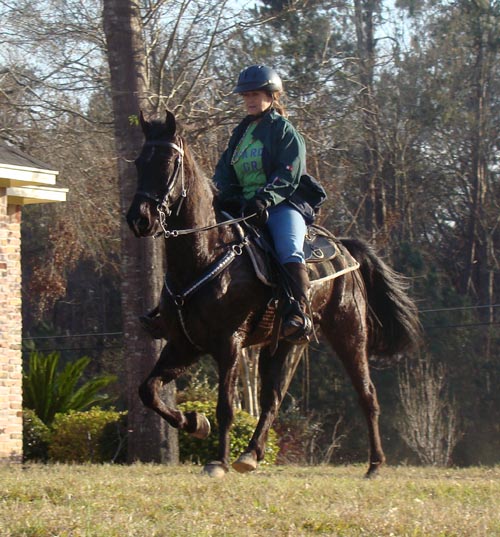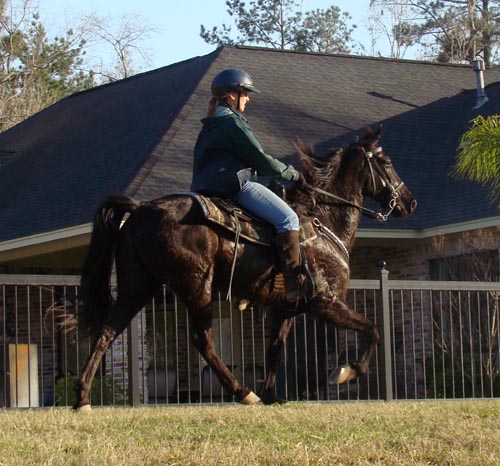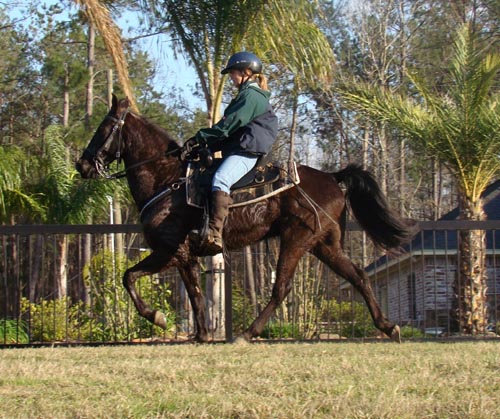 Becky rides LJ through the neighborhood on 2/21/09.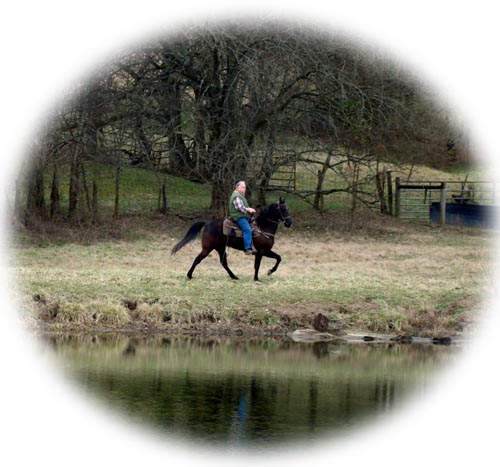 Jim rides LJ in his exhilarating smooth racking gait on a Tennessee trail on 2/10/09.
Click on arrow ABOVE to see LJ's fantastic smooth rack.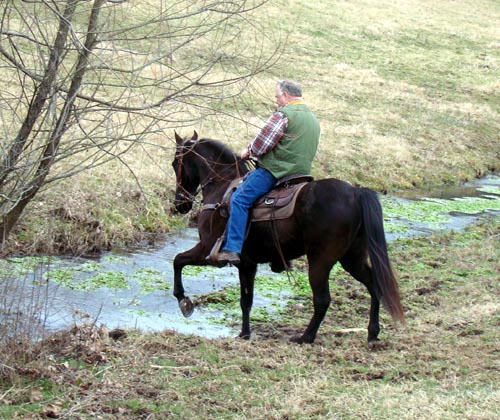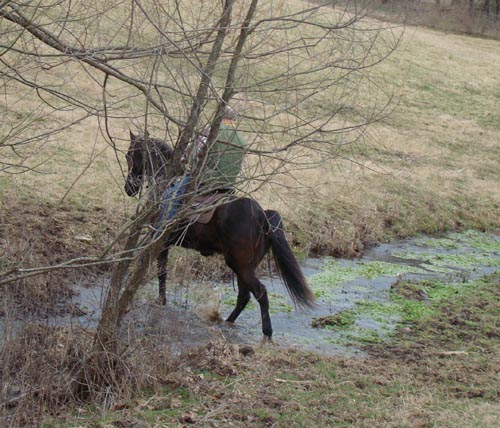 Creeks? Ditches? Water obstacles? Not a problem!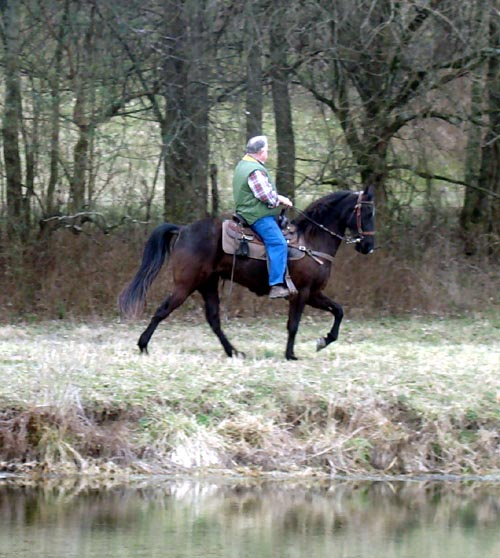 This horse just carries himself proudly. He's not a big horse, but from a distance, he looks to be a big, regal class act.
"L.J." -- In May, LJ will be 8 years old and he stands about 15H -- maybe a hair under, but definitely not over. This black Tennessee Walking Horse gelding carries himself like the royalty that he is -- naturally arched neck, high tail carriage, and the lift on his front end (with lite performance shoes -- not heavy stuff!) is very showy. While doing all this quite naturally, he just floats down the trail like you are slipping along on glass.
A direct son of "A Jazz Man" and out of a direct daughter of "The Pushover" (which was out of a direct daughter of "Ebony Masterpiece"), this gelding is showing 7 World Grand Champions on his papers. He is fun on the trail, and would cause a judge to stare in the show ring.
Grandpa Jim has owned Tennessee Walking Horses for years -- they are very much a part of his family history. He is selling LJ because this gelding has a little too much motor for his grandson. LJ will be fun for anyone wanting a thrilling, lively ride. Those looking for a dead head or lazy/mellow horse should pass him by. This is the kind of horse that I personally love to ride -- sensible and sane but loves to go and incredibly smooth. $3750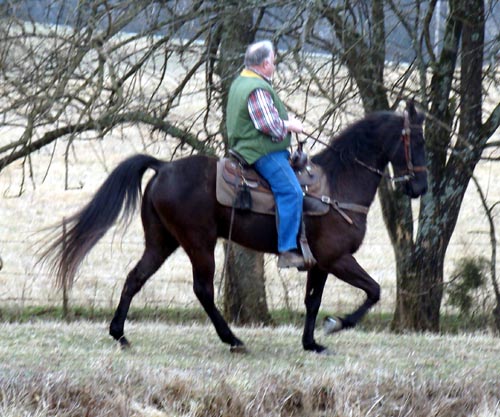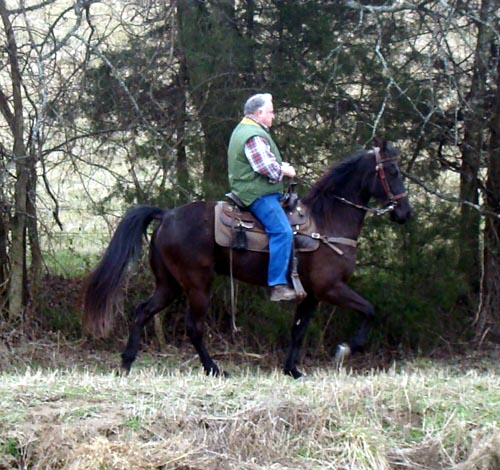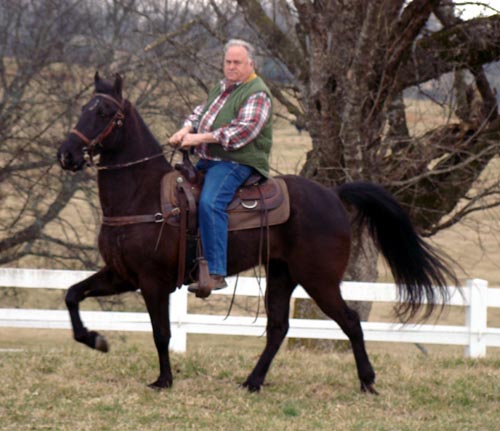 Cloud 9 Walkers
P. O. Box 878
Hardin, Texas 77561-0878
(55 minutes east of Houston)
281-726-4545
(Entire contents of this website copyrighted by Cloud 9 Walkers)

Email me!